Arrival + Departure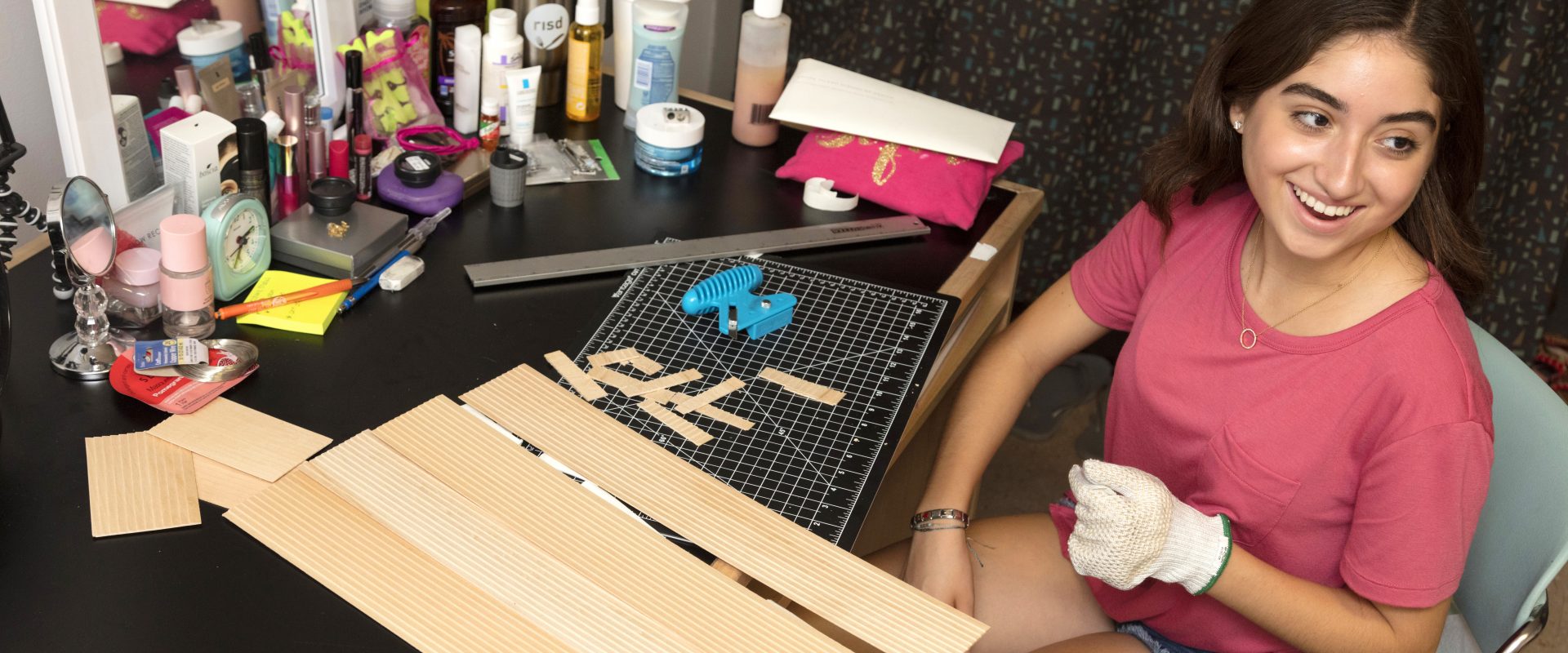 Plan your Travel
Please come prepared to attend the full duration of the program, from Check-In and Orientation on Saturday, June 20 all the way through your last class on the last day of the program, Friday, July 31.
Early Check-In
International and West Coast students traveling long distances (whose travel plans may preclude your arrival in time for Check-In and Orientation) can submit a request to arrive up to a day early (any time after 9 am on June 19). More information about early arrival will be included in the housing application process email sent in early April.
Leaving the Program Early
The final week of class is an especially intensive time; you'll be highly focused on developing and presenting your final projects right through the final day of class. We strongly encourage your parents/guardians, friends and family to come to Providence to see your work in the Final Exhibitions, but please be mindful that you'll need to keep your attention on your studies during this time. If you elect to leave the program early or don't attend all of your final classes, you'll put yourself in jeopardy of failing your course(s) or the program.  
Getting to RISD
By air
T.F. Green Airport (PVD) is 12 miles south of Providence in Warwick, RI, and provides direct flights to most major cities. From the airport, taxis and car sharing services are great, affordable ways to get to downtown Providence and the RISD campus. Uber is also an option, but they are unfortunately unable to pick up passengers at the airport directly; instead, your driver will need to pick you up at the Red Beam Garage C, a 200-foot walk from the terminal (unaffiliated with T.F. Green Airport).
Logan International Airport (BOS) in Boston is farther from campus – approximately 50 miles north – however it often offers more frequent and more direct flight options (potentially resulting in lower airfares). Peter Pan Bus Lines charters busses every 1–2 hours directly from Logan to Kennedy Plaza in downtown Providence (a five-minute walk to campus).
By car
From Route 95 North or South, take Exit 22 to Downtown Providence. On the exit ramp, bear left, following signs for "Providence Downtown." Continue straight (onto Memorial Boulevard) to the fourth traffic light, and turn left onto Washington Place. Continue straight through the second traffic light (Washington Place becomes Waterman Street) to 30 Waterman Street (on your left).
From Route 195 West, take Exit 2 (South Main Street). Follow South Main Street to the intersection of South Main and Waterman streets. Turn right onto Waterman Street and proceed to 30 Waterman Street (on your left).
By train
Amtrak's Providence station is less than a mile from campus. When you arrive, taxis will be queued curbside, just outside of the station. Uber and Lyft both operate in Providence and are options as well.
Check-In
All Pre-College students are required to attend Check-In and Orientation on Saturday, June 20. Specific arrival and Check-in instructions will be sent to you prior to the start of the program, but here's more about what you can expect: At Check-In you will receive your residence hall room assignment and access card, ID card, registration and class schedule which may include some specific course supply lists. Campus partners will be available at the Resource Fair to answer any questions, including staff members from Health Services, Public Safety, laundry service and the RISD Store. 
Check-In Day Schedule
9 am–2:30 pm
Check-in, Resource Fair + Art Supply Kit Pick-up
3–5 pm
Student Orientation
(mandatory)
3-4:15 pm
Parents/Guardians Reception
(optional)
7-8:30 pm
Residence Life Orientation
(residential students only)
Luggage Instructions
We recommend that all residential students clearly label all luggage so it can be easily retrieved from the drop-off point. We suggest packing everything in suitcases, bags and boxes, as unpacked items become tough to manage.
Late Arrival
Due to the intensive nature of the program it is very difficult to start the program late. Check-in and Orientation is mandatory. Students should plan to arrive on Saturday morning (or on Friday if using the early arrival housing option). If you have a scheduling conflict with school or exams, we strongly suggest you ask if your school can make arrangements for you to complete the requirements early. If you need a letter documenting your Pre-College attendance for school officials, simply email us for assistance.
What to Bring
Living in the residence halls? Below is a list of items you must provide along with a list of suggested items that past students have told us they were glad to have brought with them.
Required items:
Sheets (custom, extra-long 80" twin)

Pillows/pillowcases

Blankets

Towels

Alarm clock

Cell phone (U.S. number)
Suggested items:
Mattress pad

Desk lamp (halogen lamps are not allowed)

Fan

Comfortable walking shoes

Flip-flops/shower sandals

Shower caddy

Sunscreen

Key chain

Earplugs (the city can be noisy with open windows)

Hangers
If you prefer, bedding and linen can be rented through a third-party service RISD uses. You'll receive more information about this in the housing email in May. There is also a Bed, Bath and Beyond located about a half-mile from campus.
Final Exhibitions
Final Critiques Week
You'll be in class all day, every day of Final Critiques Week–presenting and documenting your work, giving and receiving critiques and having individual meetings with instructors. Please plan to be on campus until 4:30 pm (end of class) on Friday, July 31. You are not allowed to leave any of your final classes early, and you must be available to collect your artwork from the exhibitions between 2:30 and 5:30 pm.
Final Exhibitions
Pre-College culminates with final student exhibitions. The Majors Exhibition showcases pieces produced in the studios of all majors; the Fashion Majors Show highlights wearable art; the Foundations Exhibition presents work from Drawing Foundations and Design Foundations; and the Film/Video + Animation Screening is where all Film/Video and Animation student work is viewed.
Majors Exhibition Opening
Wednesday, July 29, 5-8 pm
Woods-Gerry Gallery
Remains on display July 30 (10 am–6 pm) and July 31 (10 am–2:30 pm)
Foundations Exhibition Opening
Wednesday, July 29, 5-8 pm
Memorial Hall Gallery
Remains on display July 30 (10 am–6 pm) and July 31 (10 am–2:30 pm)
Fashion Show
Wednesday, July 29
Metcalf Auditorium, Chace Center/RISD Museum
Open Rehearsal: 5 pm
Main Event (tickets* required): 7 pm
* Tickets are provided to Fashion Design majors, who distribute to their guests.
Film/Video and Animation Screening
Thursday, July 30, 5:30–7:30 pm
Metcalf Auditorium, Chace Center/RISD Museum
Artwork Pick-Up
Friday, July 31, 2:30–5:30 pm. You're responsible for picking up your final work at the close of the exhibitions. Artwork may not be removed from the gallery prior to the start of the pick-up time of 2:30 pm on Friday; any artwork that is not picked up by 5:30 pm will be discarded. Parents or friends may pick up artwork for you by presenting a note from you authorizing the pick-up as well as a photo ID.
Check-Out
Final residence hall room check-out is Saturday, August 1 at 12 noon. You may check out of your residence hall as early as Friday, July 31 (after classes), with permission from your parents/guardians. Your parents/guardians need to make Early Check-Out arrangements with Residence Life via the Housing Portal.
Shipping and Packing
UPS will be on campus during Check-Out to help pack and ship belongings home; they are also available to pick up, pack and ship artwork from the galleries. (Please note that UPS is a third party vendor and all transactions with them are independent of RISD.)
The UPS Store, 11 South Angell St, Providence, RI 02906
Phone: 401 751-6245
Email: store3114@theupsstore.com
Web: theupsstore.com/3114