Frequently Asked Questions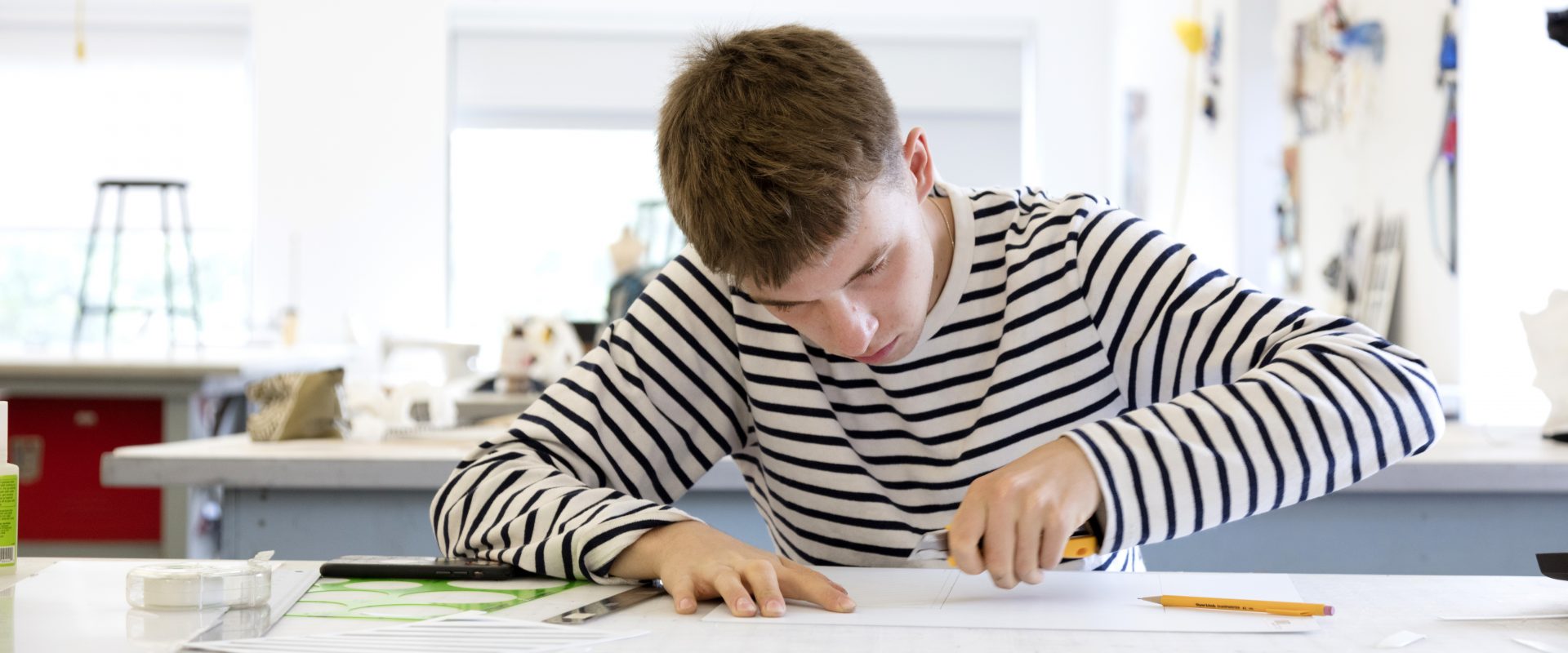 Academics
If I haven't taken any formal art classes, can I still attend RISD Pre-College?
Yes! All of our courses are tailored to meet the needs of students at any skill level. No matter what your experience with art, Pre-College instructors will work with you to improve your individual skills.
With that said, you should be comfortable with the idea that students in the program range from complete beginners to students in Advanced Placement (AP) arts classes and everywhere in between. Some students have been practicing art for many, many years. If you haven't had any formal art training, we invite you to look at this as an opportunity to learn from both your instructors and your peers.
Will there be homework?
Yes, absolutely. You should plan to spend a good portion of your time out of the classroom on homework practicing what you learn in class, refining your new skills, and completing your assigned projects.
Will I have time to work on outside projects such as summer AP homework or studying for SATs?
Based on past student experience and to minimize overall stress, we recommend that you do not plan on working on any outside projects, activities or studies during the program. Most art and design colleges and university programs consider your application portfolio as a significant factor in acceptance and Pre-College is your opportunity to focus on developing your skills and portfolio.
Will I get college credit?
RISD Pre-College does not offer college credit; however, you are able to request official transcripts for college applications or other opportunities. Students who have met the grade requirements of any of their instructors may request letters of recommendation from them after the program. These elements can weigh heavily in favor of college applicants at institutions worldwide. At the conclusion of the program you will also be sent an official certificate of completion.
For more information, please reference the "About Credit" section of the Student Handbook.
Help! My major is full, what do I do?
Remember, your major work is only one component of Pre-College. No matter your major, you'll come away with a depth of experience, advancement and artwork. Take a read through the many other major options, and find one that gets you excited – or one that you may not have considered previously. Pre-College is all about exploring new ideas.
Will the program help me build my portfolio?
Yes! If you work hard and successfully complete the program, you will greatly improve your skills and complete work for your portfolio. During the program you'll also have the opportunity to have your portfolio reviewed by an admissions officer or other RISD-affiliated reviewer during Pre-College Portfolio Day. This critique is in no way related to the RISD undergraduate admissions process; instead, it is an opportunity to gain valuable feedback on your current work and how best to move forward.
If I complete the program, will I be accepted into RISD's degree program?
No, participation in RISD Pre-College does not guarantee admission to RISD's degree program. For more information on how to apply for an undergraduate degree at RISD, visit the Admissions page or contact the team with any questions.
Application Info
Should I include samples of my artwork and/or a copy of my grades with my application?
No, you do not need to submit any artwork or a transcript as part of the regular application process.
What is the final deadline to submit an application?
We are a rolling-admissions program, meaning we're able to accept students as long as there is still space available for the major in which you're interested. If you're interested in a specific major, we highly suggest submitting your application as soon as possible as placement in the majors is on a first come, first served basis.
I'm an international student. Which visa should I apply for?
If you do not hold US citizenship or US permanent residency, you must have or obtain an appropriate visa. For the pre-college program, the most appropriate visa is the B2 Recreational Study visa since it is a non-matriculating program and avocational.  Please refer to this document for more information: 9 FAM 402.5 (U) STUDENTS AND EXCHANGE VISITORS – F, M, AND J VISAS.
If you have any questions, please contact the International Student and Scholar Affairs.
Arrival and Departure
Can I arrive late or leave the program early?
Due to the intensive nature of the program it's very difficult to start the program late. The Saturday Check-In and Orientation on June 24​ are mandatory; you should plan to arrive on Saturday morning. It's also very important that you stay through the end of the program. Classes are held right up to the last day, and the last week is dedicated to your final projects, term reviews and academic advisement.
What if my high school is still in session when the program begins, or starts before the program ends?
We try to time the program to accommodate the schedules of as many US and international schools as possible, but unfortunately sometimes there are instances when the schedules overlap. Students are usually able to get permission to finish the term and any exams early, or start their high school year late so that they can participate in the program. If you're in this situation, we strongly suggest seeking special permission as well. If you need any kind of written confirmation of the program's schedule and requirements for your high school's use, we'll be happy to provide it.
Will transportation be provided to RISD from the airport?
No, you'll need to make your own transportation arrangements to and from campus at the start and end of the program.
Expenses
How much does it cost to attend Pre-College?
The cost will vary based on a few factors, including whether you choose to live in the residence halls or commute. Visit Tuition and Fees for a description of all associated program expenses.
How much should I expect to pay for art supplies?
Depending on your major and approaches taken by different instructors, supplies can sometimes cost in excess of $800. You're welcome to bring your own supplies to mitigate cost. Inevitably you will need to purchase supplies at the start of and during the program, and there are several art supply stores nearby–including two on campus–to accommodate these needs.
Do I need a laptop?
For Pre-College 2023 all Pre-College students will be required to bring a personal laptop that meets the minimum requirements to access Canvas (outlined below), as well as basic printing and word processing capabilities. Mobile devices, (i.e. smartphones and tablets) are not supported. We require students to bring their own laptop, but for those who do not have a laptop that meet the minimum system requirements, a limited number of loaner laptops will be available after enrollment in the program. For questions, please contact precollege@risd.edu before February 15, 2023.
Minimum System Requirements:
Chrome 107 or later version
Firefox 106 or later version
Edge 107 or later version
Safari 15 or 16 or later version (Macintosh only)
Students should also have an office suite installed like MS Office or LibreOffice, or use an online office suite like Google Apps or Office 365.
Typical cost of a personal laptop that meets minimum system requirements: $300–$500. Typical cost to purchase required software: $0–$70.
Life at RISD
What can I do during my free time?
Students are free to engage in the Pre-College activities offered by the Summer Office and Residence Life staff. Students may also visit local attractions, stores and eateries. Note that most of your free time will be dedicated to your homework and projects (ranging from 4–10 hours per week, per class). Learning to balance your heavy homework requirements with socializing will be an essential part of your growth during the program.
I'm living on campus. What should I bring?
Living in the residence halls? Refer to the Admitted Students/Arrival and Departure page for a full list of items you must provide along with a list of suggested items that past students have told us they were glad to have brought with them.
I'm living in the residence halls. Can I bring my car to campus, too?
No, students living in the residence halls are not allowed to operate motor vehicles (including scooters and motorcycles) while in residence on campus.
Will I be able to do laundry?
Absolutely! There are washing machines and dryers in all of the residence halls that accept RISDbucks. Or, if you'd prefer, you can make arrangements for linen rental and laundry service, which can be coordinated during Orientation.
What's the food like on campus?
Our chefs and kitchen crews take great care and pride in preparing organic, locally sourced food. The Metcalf Dining Center ("The Met") features a sandwich station, salad bar, as well as a vegetarian/vegan bar, daily soups, a miso station, and traditional entrées.
Given that the health and wellbeing of our community are profoundly important, we take special care to honor the dietary needs and customs of individual students. Please let us know about any food allergies, intolerances and other restrictions so that we can meet your needs and make mealtimes pleasant and fulfilling.
I still have questions about housing. Who should I reach out to?
Any questions regarding summer housing should be directed to RISD's Residence Life office. Be sure to let them know you're reaching out about housing during RISD Pre-College.
Requesting a Transcript
I've completed the program. How do I request a copy of my transcript?
At the conclusion of the program, once all grades have been submitted, you're welcome to request an official transcript for your own use or to share with an institution by visiting our Transcript Request page. Please note there is a fee to process each request. Unofficial transcripts are available in the Student Portal under the "My Enrollment History + Transcript" tab.
Important notice: Students who have already completed the program, please note that we've upgraded to a new platform. If you requested transcripts via Parchment prior to August 1, 2018, you will be required to create a new username and password.