Academics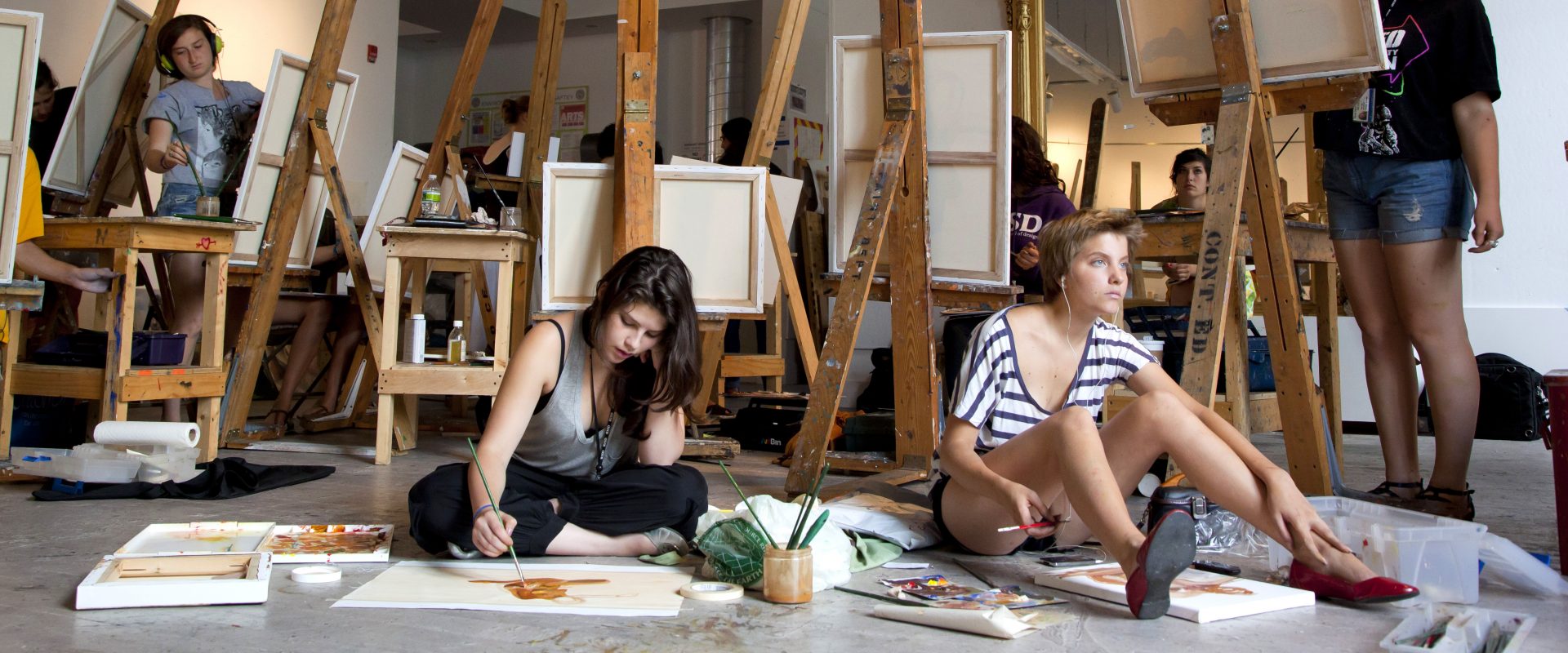 Curriculum
Due to COVID-19, we have made the difficult decision to cancel the 2021 RISD Pre-College program. 
RISD has developed a new online program designed for high school students interested in pursuing art and design in college and want to learn best practices in producing portfolio work: RISD Advanced Program for High School Students.
We hope you can join us online. 
One of the hallmarks of a RISD undergraduate education is first-year Experimental and Foundation Studies, designed to push students to take risks, test theories, challenge ideas and refine work to go beyond your initial ideas and find the best solution. That's why the RISD Pre-College curriculum also places a strong emphasis on foundation work: it is as crucial to your development as your major. In a typical week, you'll balance two, seven-hour days of Foundation Studies with two full days of Major work and a half-day of Critical Studies in Art, with an hour each day reserved for lunch.
Evenings and weekends are reserved for homework, trips and activities. Here's a look at what a typical week might look like:
Foundation Courses
Your foundation work is a crucial part of your development as an art student. These three required courses ask you to move beyond the expected, and help you to develop a new visual vocabulary that will allow you to confidently speak about art and design.
Drawing Foundations
A representation of your drawing skills is often an essential requirement for college admissions portfolios. In Drawing Foundations, you'll develop your power of observation and strengthen your ability to think and express yourself visually on paper. You'll learn techniques for working from the human figure, forms in nature, landscapes, interior spaces and still-life setups.
Design Foundations
Another essential component of portfolio development is the representation of thoughtful design choices in all artwork. This course will introduce you to the formal elements of design–line, shape, color, texture and space. Projects may include both two- and three-dimensional design concepts.
Critical Studies in Art
Critical analysis–the ability to examine, analyze and respond to creative ideas verbally and in writing–is a crucial part of a RISD education. In this foundation course you'll develop an approach to critical analysis by studying artwork in its historical and contemporary context. Your in-class coursework, including a written paper and group presentation, will be enhanced by visits to the RISD Museum where you'll explore the collections and examine original artwork up close.
Majors
You'll build on your foundation work by choosing a major, which will allow you to focus on a particular field of design or fine art. Space in majors is limited and placement is on a first-come, first-served basis. And remember: your major work is only one component of Pre-College. No matter your major, you'll come away with a depth of experience, advancement and artwork.
Animation
Using a number of rendering techniques, Animation students will be introduced to basic technical skills in computer distortion, timing, exaggeration, sound and sequencing. You'll develop strong perception and drawing skills through projects that require creating unique characters and compelling stories through flipbooks, storyboards, cutouts and stop-motion films. You'll also study noteworthy animated films and discuss how they relate to your own work.
Art + Activism
Throughout history, artists and designers have served as cultural magnifiers, bringing awareness and change to socioeconomic, environmental and political disparities. Through an exploration of 2D mixed media materials and concept building, you'll create work that examines and unravels the meaning of social justice. Class will include sensitive and respectful discussions on topics such as social equity, inclusiveness, political and economic divides, along with an exploration of identity, privilege, bias, prejudice, navigating political constructs, religious ideology and government justice systems.
Unlike a media-centered major, the Art + Activism major will give you an opportunity to explore dual interests. As with all majors, you'll be challenged to produce artwork that shows mastery of materials and is rich with meaning.
Ceramics
Clay has long been respected as the medium of choice for relief and sculptural portraiture as well as many types of functional ware. Its plasticity and versatility is appreciated in works that transcend traditional boundaries, and today, ceramics are also associated with contemporary sculpture. As a ceramics major, you'll learn basic construction and finishing techniques, including hand-building, wheel-throwing, surface design, glazing and kiln firing, and will be encouraged to experiment with both functional and sculptural ideas.
Drawing
The drawing major allows you to significantly expand upon the skills and techniques you'll learn in Drawing Foundations. You'll confront demanding technical exercises and explore imaginative, descriptive and conceptual imagery on paper. All the critical technical elements of drawing–line, tone, composition and color–are employed as tools for experimentation, discipline and intense inquiry.
Film/Video
As a film/video major, you'll develop visual expression, storytelling, and the fundamental language of motion pictures from concept to final edit. You will learn basic digital video filming techniques and nonlinear editing with Final Cut Pro software as you shoot and edit a series of short individual and team projects. Experimental, documentary and narrative genres will all be explored. Previous experience with video editing software–like iMovie or Adobe Premiere–is helpful, but not required. Video cameras are provided for use during class hours only. You're welcome to bring your own camera provided it shoots manually, records digitally and has a USB port.
Graphic Design
Graphic design majors explore various combinations of traditional and digital design tools through a series of intensive classroom exercises. This regimen will help you integrate diverse techniques with elements of color, form, typography and composition. Your projects allow you to combine these tools and techniques in creative applications such as corporate identification, publications, posters, packaging and signage. You'll also learn to recognize the principles of good graphic design as you integrate text and imagery into seamless, finished communications.
Industrial Design
From the creation of handheld electronics to the configuration of a satellite, industrial design is a hugely important field that affects every aspect of our daily lives. You'll work on design solutions for social, physical and ecological needs, and develop a working vocabulary in the language of two- and three-dimensional design. Three-dimensional drawing and model-making skills are emphasized throughout the course.
Jewelry
Designing and constructing jewelry is an ideal discipline for developing an understanding of the structural underpinnings of all kinds of sculpture. Many skills learned in this major, if expanded in scale, are readily transferable to other modes of metalwork because they'll familiarize you with the properties of various metals and related materials, as well as commonly used methods of joining. Techniques are learned through numerous demonstrations and structured exercises in the studio, enabling you to complete jewelry objects of your own by the end of the course.
Photography: Digital
Anyone using a camera today must have an understanding of digital tools. Digital photography majors develop technical and aesthetic skills in photography with an emphasis on digital imaging and its potential applications in fine art and commercial print and electronic media. Coursework focuses on camera techniques, lighting methods and the use of computer software (Adobe Photoshop) for enhancing and refining images. NOTE: You'll have access to DSLRs in and out of class, but are also free to bring your own DSLR camera.
Printmaking
This major is an excellent choice if you enjoy drawing or illustrating and are interested in experimenting with processes and materials. You'll learn the fundamentals of screenprinting including hand-cut stenciling, monotype and photo-emulsion. You'll be encouraged to experiment with a wide range of etching and intaglio techniques like plexi-glass drypoint, hardground line etching, aquatint, transfer etching, and photo-polymer plating. You'll learn how to adjust and manage images digitally for print preparation and print on fabric and materials other than paper. Meaningful content, combined with demonstrated technical skills, will help you create mixed-media work utilizing two or more techniques in small or large(r) scale monotypes, culminating in a series of prints for your final portfolio presentation.
Textile Design
Students working with textiles have the opportunity to explore how fabric and fibers can be manipulated to produce a wide variety of surface designs and expressive ideas. By mastering the basic elements of silkscreen printing, assorted dyeing methods, dimensional manipulation and embellishment you'll learn to experiment with elements of layering, transparency and pattern. Emphasis is placed on illustrating a personal vision through meaningful narratives and motifs combined with creative use of color. This approach will allow you to explore originality in ways that can later be applied to work in any discipline and medium.
Architecture
Learn basic architectural concepts and put them into practice by constructing physical prototypes. As an introductory architectural design studio, important architectural principles will be presented through studio exercises, slide lectures and demonstrations to develop an understanding of scale, form and spatial relationships. This intense study provides the framework for the type of analysis and synthesis that's crucial to further architectural pursuits.
Art + Science
The overlap between art and science is undeniable. In this major, you'll investigate how nature can inform art and design, and conversely, how creative inquiry of nature can lead to solutions to environmental problems. Through research, discussion and experimentation, you'll be challenged to develop skills in a variety of methods and materials in order to build a body of work that best reflects your vision. Topics covered in class may include biomimetics, biophilic design, ecology, climate change, technology and medicine. A background in science is not required.
Unlike a media-centered major, the Art + Science major will give you an opportunity to explore dual interests. As with all majors, you'll be challenged to produce artwork that shows mastery of materials and is rich with meaning.
Comic Book Art
Comic books are pure pop-culture adrenaline. They've become an essential element of our popular media consciousness. This major provides students with the expertise needed to combine words and pictures into compelling stories for strips, comic books or graphic novels. You'll learn the creative and technical aspects of this idiosyncratic art form, including its unique characteristics and limitations. Classes include a survey of selected comics, in-class demonstrations of scriptwriting and drawing techniques, and studio assignments that encourage you to develop original comic stories of your own.
Fashion Design
As a fashion design major you'll examine the process from pencil and paper to purchase. Initial exercises focus on developing the visual communication skills necessary to illustrate a fashion concept. You'll gain an understanding of color interaction, form and proportion as well as merchandising and construction methods. You'll also learn to appreciate how fashion tastes and styles both reflect and contribute to contemporary culture. Ultimately, students design and construct fashion pieces out of alternative materials to be shown as part of the Pre-College Exhibitions at the end of the program. Sewing skills are not required.
Game Design
The game designer is a jack-of-all-trades: artist, engineer, psychologist and storyteller… and most of all, a creator of fun. This course provides aspiring game makers with practical experience creating tabletop games. Through play testing, group critique and prototyping, you'll hone projects using ideas discussed in class–like character design and game mechanics–and explore the inner workings of board, social, didactic, role playing and world building games. All projects are delivered as real, physical objects created through a combination of illustration and dimensional materials like mixed-media board, clay, metal and wood. Game industry designers and developers serve as guest critics.
Illustration
Illustration is an ideal major for those with a strong interest in drawing and the many ways to communicate a message. You'll learn to create a compelling narrative, in a single visual construct, for a variety of genres including book, editorial and corporate illustration. Through lectures and research on historical and contemporary artists, methods and materials you'll seek models for manipulating content and design elements to best express your viewpoint. Content and means of expression such as satire, advertising, propaganda, social commentary and fiction are learned in combination with exploration of drawing media such as graphite, pen, marker, collage and painting. Heavy focus is on developing individual concepts and a rigorous drawing practice through sketchbooks and assignments.  
Interior Design
Interior design majors build a strong foundation in the process of designing interior spaces. You will develop a visual vocabulary that helps you explore the relationships between interior components and movement within a space. Color, texture, fabric, lighting and other elements are investigated in a way that encourages you to express your own sense of design. You'll learn to understand the elements and principles of interior design as you develop project solutions, hold discussions and critiques.
Painting
Painting majors are introduced to both traditional and contemporary concepts and techniques in the medium. You will learn to create and organize forms, colors, textures and tones while experimenting with different methods of application. You'll start by working from the figure, still-life setups and diverse landscapes. You'll then be asked to create more personalized imagery by adapting lessons from the studio. Lectures, demonstrations and critiques reveal how others have tackled similar painting issues in the past to help you discover your own style.
Photography: Traditional
Film photography—the original photographic process—offers the artist an essential understanding of the medium, which many professional photographers cite as informing their digital work in essential ways. In this black-and-white photography course, students learn how to see and compose images and develop personal concepts through monochromatic imagery. The darkroom process brings together creative and scientific experimentation allowing for alternative means of expression that can bring to light human, cultural and environmental stories. Both the experienced and the inexperienced photographer are welcome, but each student must have access to a 35mm camera with full manual exposure control capability.
Sculpture
Here you'll explore a range of three-dimensional concepts, skills and processes. Emphasis is placed on producing realistic structures based on human, animal and plant anatomy. You'll select materials and methods that help you best address issues of form, space, expression, context and scale (in past years, projects have included constructing with wire, paper, fabric and found objects). You'll also talk about the expansive field of contemporary sculpture, including conceptual art, public art, installations, memorials and site-specific work.
Classroom Experience
In a typical day, you'll be in-studio for seven hours with a one-hour lunch break. In class you'll participate in group and individual critiques, lectures and demonstrations. Most of your work will be done outside of the classroom to give you enough time to research ideas, develop concepts and complete artwork.
Your education will extend outside of the classroom and across campus, with open access to nearly 100,000 objects housed at the RISD Museum, the Edna Lawrence Nature Lab collection of natural history specimens, microscope lab and living plants and animals, and the RISD Library, which houses an extensive art and design book collection and Visual + Material Resource Center.
Critique
An essential element of the RISD undergraduate curriculum is the studio critique (or, affectionately, "crit"). That's because all visual artists and designers, at every stage in their career, need the advice and perspective of others. At Pre-College, you'll learn to present your work to your peers and instructors, receive constructive criticism and analyze your classmates' work in turn.
The Human Figure
To develop a critical understanding of art, Pre-College courses utilize images of clothed and unclothed human figures and, in certain studio courses, live nude models. The use of professional models offers students an opportunity to study the human form in a way many have not yet experienced. Under the direction of the instructor, models typically pose for lengths of time ranging from a few minutes per pose to potentially a few hours (with breaks). The work that you create from a live nude model is designed to develop an awareness of the kinesthetics of the human form, some knowledge of human anatomy and a connection to the living energy of the subject. Photography of models is not permitted. You'll be expected to be respectful, non-distracting and attentive to your work during the model poses.
Homework
Since most of class time is made up of lectures, demonstrations and critique, most of your work will be done outside of the classroom. Homework for all courses is substantial. You're expected to take initiative both inside and outside of the classroom, including prioritizing your schedule to balance extensive homework assignments with time for program events and activities. The six weeks of Pre-College is your dedicated time to develop your skills and college application portfolio. Therefore you should carefully consider the workload of the program and avoid scheduling any competing outside activities and studies such as competitive sports training, AP coursework, SAT prep, etc. during the program.
Final Projects
The last week of class consists of final critiques and presentations to your class and instructors; equal in importance and intensity to final exams in other subject areas. Attendance at final classes and participation for final projects account for a major portion of your final grade. Your participation is essential to your success in the program.
Final Exhibitions
At the end of the program your work will be exhibited for friends, family and the general public to experience.
Foundations Exhibition
For each foundations class, instructors will select exemplary work by several students to be shown in the final Foundations Exhibition. Professional staff will oversee the installation of all work.
Majors Exhibition
One piece of your work from your major class will be selected by your instructor to be shown in the final Majors Exhibition. Professional staff will oversee the curation and hanging of the work. Seeing work from every student in the program will give you the opportunity to speak about your work to a new audience.
Fashion Show
All fashion majors participate the Pre-College Fashion Show. You'll work throughout the program to develop meaningful concepts and learn methods of construction that help you develop a fully realized final garment. You and your classmates will be involved in all aspects of the show including model selection, styling, accessories and runway performance. You'll also exhibit your concepts in the Majors Exhibition.
Film/Video + Animation Screening
Film/video majors and animation majors learn how to develop concepts, characters and stories that result in your final film or animation project. Instructors from both majors will work together to sequence your work for the Film/Video and Animation Screening so that students, family and friends will get to experience the work on the big screen.
Academic Calendar
Due to COVID-19, we have made the difficult decision to cancel the 2021 RISD Pre-College program. 
RISD has developed a new online program designed for high school students interested in pursuing art and design in college and want to learn best practices in producing portfolio work: RISD Advanced Program for High School Students.
We hope you can join us online. 
SAT, JUNE 19
Student Orientation (mandatory)

Family Reception (optional)

Resident Advisor meetings
SUN, JUNE 20
Student Orientation (mandatory)
MON, JULY 5
Independence Day (observed)
Offices closed/no classes
FRI, July 30
Exhibition artwork pickup
Arrival + Departure
Due to COVID-19, we have made the difficult decision to cancel the 2021 RISD Pre-College program. 
RISD has developed a new online program designed for high school students interested in pursuing art and design in college and want to learn best practices in producing portfolio work: RISD Advanced Program for High School Students.
We hope you can join us online. 
You're required to arrive on Saturday, June 19 before 1:30 pm to attend Check-In and Orientation. If you're traveling internationally or a long distance, you can request permission to arrive early on June 19. After acceptance to the program, additional information about early arrival will be shared along with instructions on how to complete your housing application.
Due to the intensive nature of the program it is very difficult to start the program late. If you have a scheduling conflict with school, we strongly suggest you ask if your school can make arrangements for you to complete the requirements early. If you need a letter documenting your attendance for school officials, simply email us for assistance.
To complete the program, you must also attend each class, in full, during Final Critiques Week, participate in Student Exhibitions and stay through the end of class on Friday, July 30. Check-out will officially take place on Saturday, July 31.
Transcripts
At the conclusion of the program, once all grades have been submitted, you're welcome to request a transcript for your own use or to share with an institution by visiting our Transcript Request page. Please note there is a fee to process each request.
IMPORTANT NOTICE: Students who have already completed the program, please note that we've upgraded to a new platform. If you requested transcripts via Parchment prior to August 1, 2018, you will be required to create a new username and password.