Admitted Students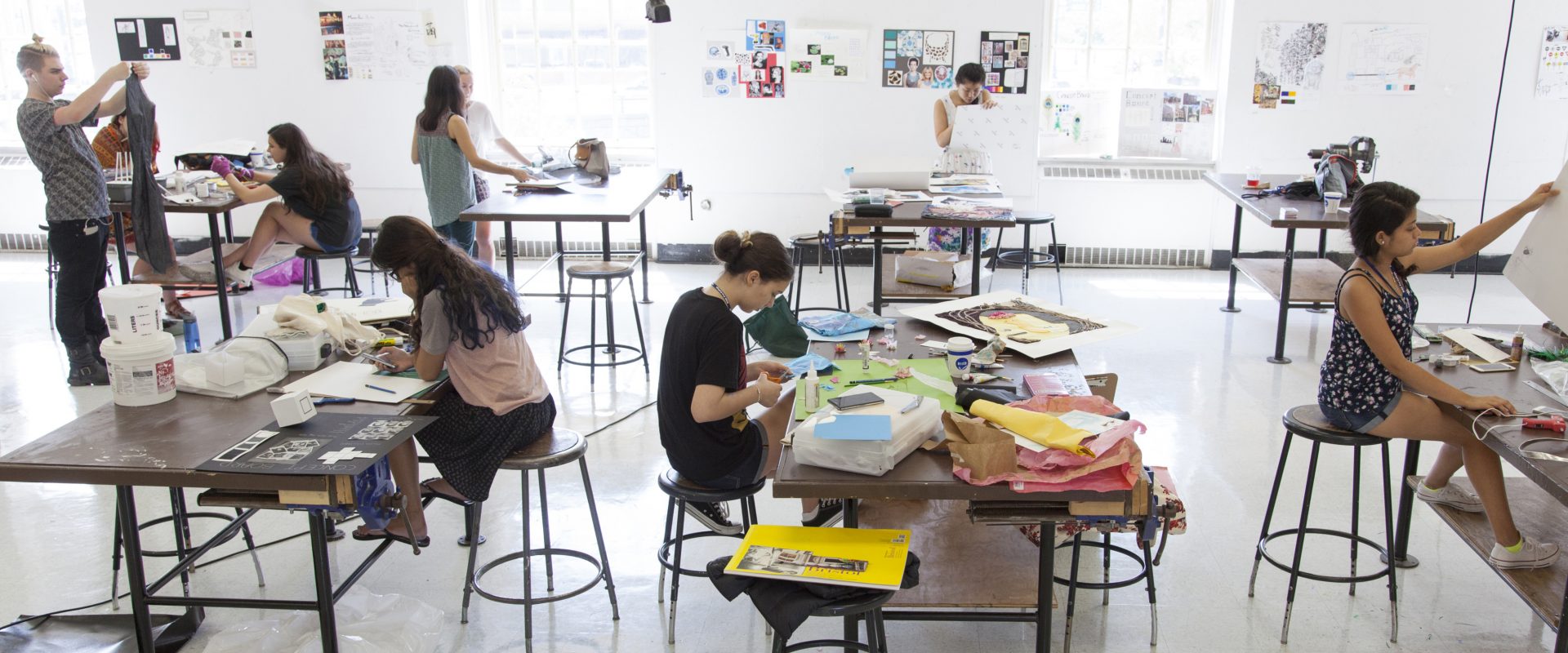 Required Forms and Documents
Upon acceptance to the program, all required forms must be completed and submitted via the Application Dashboard by May 1, 2023. All documents can be found on the dashboard and require a parent's signature. You will not be able to attend classes until all required forms have been signed and submitted. Required forms include:
Consent to Treat and Transport (parent signature required)

Counseling Services Consent (parent signature required)

FERPA Consent
Photo Release (parent signature required)
Student Conduct Agreement (parent signature required)
Student ID Photo Submission
Housing Application

Health Services Portal




The Health Services Portal will not be available to complete until March 1 as you need to use your RISD Account username and password. However, the online forms require extensive student health information, a physician's authorization and signature, and immunization records. Please review this information immediately and plan accordingly in order to return the forms in time

. Note: In compliance with HIPAA, health forms must be uploaded directly to the Health Services Portal; please do not email them. If you have any questions regarding the required health forms, please contact 401 454-6625 or health@risd.edu.
Health requirements for admitted students:
COVID-19 vaccination with booster
Immunization Records (health provider signature required); a positive titer value for any of these diseases is acceptable:

MMR (2 doses; minimum of 4 weeks between doses; dose 1 must be given after first birthday)
Hepatitis B (3 doses; minimum 4 weeks between doses 1 and 2; minimum 8 weeks between doses 2 and 3; minimum 16 weeks between doses 1 and 3)
Tdap (1 dose in past 10 years; if Tdap date is more than 10 yrs from date of enrollment must provide date of recent Td booster)
Varicella (2 doses or history of disease; minimum 3 months between doses if 1–12 years old; minimum 4 weeks between doses if 13 or older)
Meningitis (1 dose; booster required if dose 1 was prior to 16th birthday)

Tuberculosis (TB) screening, with provider signature
Completed health forms on the Health Services Portal (to be accessed in spring)
Student Handbook
The Student Handbook contains detailed information about arrival and departure; housing, dining and safety; and academic and disciplinary policies and procedures. You and your parents/guardians are required to read the handbook carefully, and be completely familiar with the official policies and procedures contained in the handbook prior to arrival on campus.
Apply for Housing
In early April you'll receive an email with information on the housing application, as well as other important documents like the Weekend Away and Early Arrival forms. Housing applications are due by May 1.
Roommates
An important part of Pre-College experience is getting to meet new friends in a new environment; that's why we don't give the option of requesting a specific roommate. It's important that you complete your housing application on your own and answer as candidly as possible, because our office will use the application to pair you with a roommate based on similarities in important living habits (e.g., similar sleeping hours). Students coming from the same school, city or major will not be paired together.
For any questions or concerns, please contact the Residence Life office by email or by phone at 401 454-6650. To best assist you, please indicate that you are calling or emailing regarding RISD Pre-College.
Student Account Credentials
In addition to the credentials a student used to apply to the Pre-College Program, students will also receive additional information regarding the following credentials:
1. RISD Account
Once admitted into the Pre-College Program, you'll be assigned a RISD Account, also known as Active Directory credentials (username and password) that will allow you to access the following resources and services on campus: Housing Application/Student Life Portal, Health Services Portal, Canvas (learning management system), MyRISD App, LiveSafe.
Account information will be sent from RISD's Information Technology Services (ITS) on or about February 22 to the student primary email address. A parent email address CANNOT be used for these emails. Be sure to check the spam and junk folders on the student primary email account in the event that the email is directed there. If you do not receive your credentials by February 23, please contact RISD's IT Services Desk at 401 454-6106. These account credentials will be separate from the credentials you use to access your Student Portal.
2. Student Portal
RISD Continuing Education's Student Portal is our course registration system that offers secure and reliable access to final grades, transcripts, student information and student account payments and balances. Shortly after being admitted and submitting your deposit, the primary email address on file will receive an automated email with a temporary username to log in to the Student Portal. The temporary username will consist of the letter 'X' followed by a series of numbers. Follow the directions to create a password and change your username to something that is more easily remembered. We recommend using the same username that you used for your application to the Pre-College program. Please visit our Registration Help and FAQs if you have any questions or issues logging in.
Art Supplies List
Items in the General Supply List will be enough to get you started for your foundation courses. You're invited to bring any supplies from home to supplement the cost of supplies. Your full supply list will be available in your courses in Canvas 1–2 weeks prior to the start of the program. Most supplies are available at the RISD Store or the RISD Store 3D located on campus. Please note that you may be asked to buy more specific supplies as needed after the program begins.
MyRISD App
The My RISD app will be a great resource for you during the program. It has interactive maps to help you get around campus, dining and laundry locations, quick links to the Pre-College schedule, a list of upcoming events, local resources and so much more. You can also elect to receive push notifications from RISD Pre-College staff about event sign-ups, last-minute details and activity invites.
MyRISD is available on both Apple and Google Play stores.
LiveSafe
LiveSafe, managed by RISD's Department of Public Safety, is a free downloadable app that mobile users can use to initiate contact with emergency responders around the city and campus. It is also an emergency notification system that uses broadcast phone, email and text messaging for quick distribution of time-sensitive information to students, faculty, staff and family members. The primary email address listed on the Pre-College application is automatically enrolled in the system. During critical events involving your personal safety, you will receive advisories and instructions to the phone number you provide. Features include:
one-touch emergency/crime reporting to Public Safety or 911
anonymous messaging for reporting suspicious activity, crimes in progress and other safety concerns
monitoring services for family/friends to track your location
customized directory of RISD and local emergency information
health and wellness resources
directory of on-campus automated external defibrillator (AED) locations
LiveSafe is available for download from the Apple App Store, Google Play and the MyRISD app, or via direct download. You must sign up for the LiveSafe system by June 24.
February 22/23
Students receive RISD Account username and password
(sent to student email)
March 1
Health Services Portal opens
(RISD Account required)
April 4
Housing Application/Student Life Portal opens
May 1
Required Forms and Documents due
Including Housing Application, Health Services Portal, Campus ID Card Photo, Health Insurance Verification, Counseling and Psychological Services Consent Form, Student Emergency Medical Information/Consent Form, Parent/Student Conduct Acknowledgement, Photo Consent Release, Art Supply Purchase Release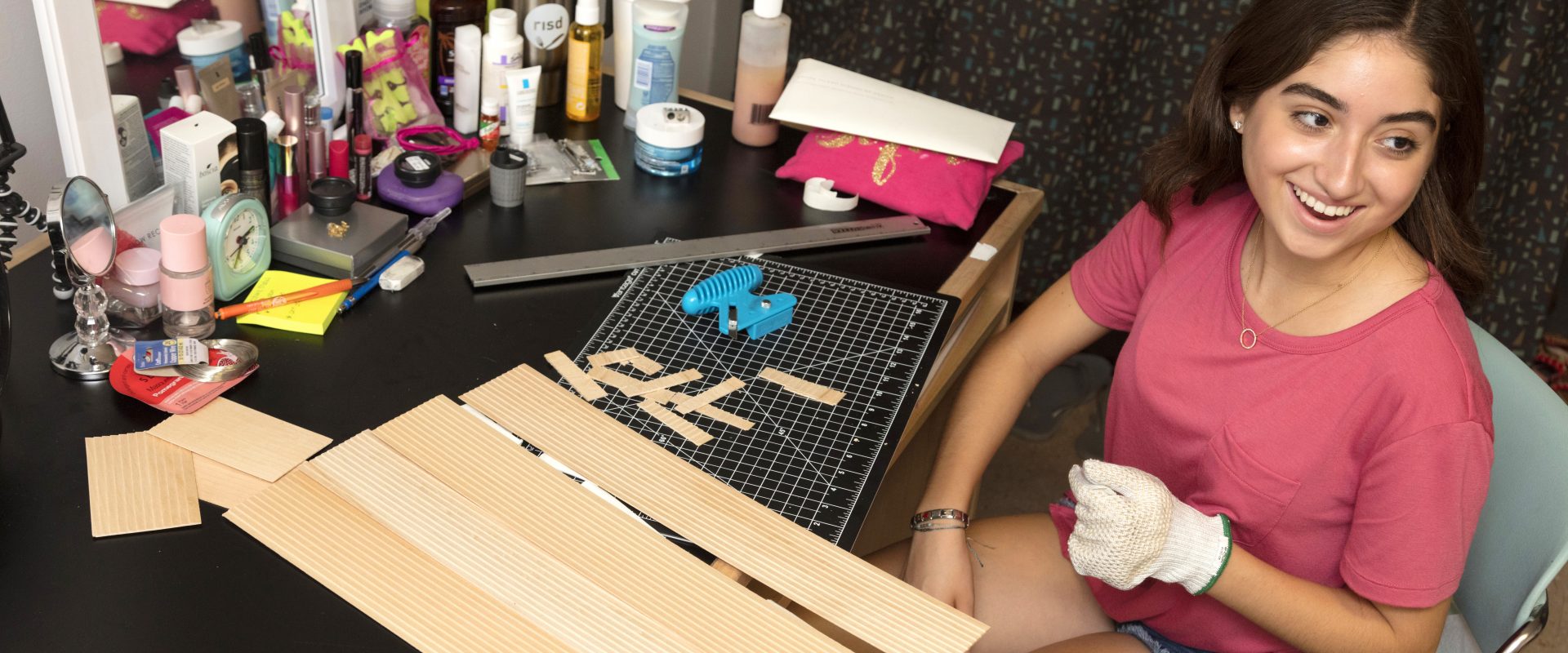 Plan your Travel
Please come prepared to attend the full duration of the program, from Check-In and Orientation on Saturday, June 24, 2023 all the way through your last class on the last day of the program, Friday, July 28, 2023.
Early Check-In
International and West Coast students traveling long distances (whose travel plans may preclude your arrival in time for Check-In and Orientation) can submit a request to arrive up to a day early (any time after 9 am on June 23). More information about early arrival will be included in the housing application process email sent in early April. All early arrival requests must be submitted to Residence Life by June 9, 2023.
Leaving the Program Early
The final week of class is an especially intensive time; you'll be highly focused on developing and presenting your final projects right through the final day of class. We strongly encourage your parents/guardians, friends and family to come to Providence to see your work in the Final Exhibitions, but please be mindful that you'll need to keep your attention on your studies during this time. If you elect to leave the program early or don't attend all of your final classes, you'll put yourself in jeopardy of failing your course(s) or the program.  
Getting to RISD
By air
Located about 10 miles south of Providence, Green Airport (PVD) is Rhode Island's only airport, with direct flights to and from many cities around the country. It also services a few international destinations. Transportation options from the airport to Providence include taxi and car sharing services.
Logan International Airport (BOS) in Boston, MA is approximately 50 miles north of Providence; however, it often offers more frequent and more direct flight options (potentially resulting in lower airfares). Peter Pan bus company provides Logan travelers with bus transportation to downtown Providence.
By car
From the north or south: From either I-95 South or I-95 North, take Exit 37B (old Exit 22A) Downtown, Memorial Boulevard. Continue straight (onto Memorial Boulevard) to the fourth traffic light, and turn left onto Washington Place. Continue straight through the second traffic light (Washington Place becomes Waterman Street) to 30 Waterman Street (on your left).
From the east: Follow I-195 West to Exit 1C (South Main Street). Follow South Main Street to the intersection of South Main and Waterman streets. Turn right onto Waterman Street and proceed to 30 Waterman Street (on your left).
From the northwest: Follow 146 to I-95 South. Once on I-95 South, follow the North and South directions above.
By train
Amtrak and the Metro Boston Transit Authority provide train transportation via Providence Station in downtown Providence. Taxi and ride sharing options are available just outside the station.
Check-In
All Pre-College students are required to attend Check-In and Orientation on Saturday, June 24. Specific arrival and Check-in instructions will be sent to you prior to the start of the program, but here's more about what you can expect: At Check-In you will receive your residence hall room assignment and access card, ID card, registration and class schedule, which may include some specific course supply lists. Campus partners will be available at the Resource Fair to answer any questions, including staff members from Health Services, Public Safety, laundry service and the RISD Store. 
Check-In Day Schedule
Schedule subject to change
8:30 am–2:30 pm
Check-in, Resource Fair and Art Supply Kit Pick-up
3–5:30 pm
Student Orientation
(mandatory)
3–4:15 pm
Parents/Guardians Reception
(optional)
7–8:30 pm
Residence Life Orientation
(residential students only)
Welcome Materials
Welcome materials will be available as Pre-College 2023 Check-In Day approaches.
CHECK-IN & ORIENTATION SCHEDULE
CANVAS RESOURCE GUIDE
EVENTS CALENDAR
FAMILY RESOURCE GUIDE
CAMPUS MAP
HOW TO ACCESS CLASS SCHEDULE
COMMUTER STUDENT GUIDE
Luggage Instructions
We recommend that all residential students clearly label all luggage so it can be easily retrieved from the drop-off point. We suggest packing everything in suitcases, bags and boxes, as unpacked items become tough to manage.
Late Arrival
Due to the intensive nature of the program it is very difficult to start the program late. Check-in and Orientation is mandatory. Students should plan to arrive on Saturday morning (or on Friday if using the early arrival housing option). If you have a scheduling conflict with school or exams, we strongly suggest you ask if your school can make arrangements for you to complete the requirements early. If you need a letter documenting your Pre-College attendance for school officials, simply email us for assistance.
What to Bring
Living in the residence halls? Below is a list of items you must provide along with a list of suggested items that past students have told us they were glad to have brought with them.
Required items:
Sheets (custom, extra-long 80" twin)*

Pillows

Pillowcases*

Blankets*

Towels*

Alarm clock

Smart cell phone (U.S. number)
Suggested items:
Mattress pad

Desk lamp (halogen lamps are not allowed)

Fan

Comfortable walking shoes

Flip-flops/shower sandals

Shower caddy

Sunscreen

Key chain

Earplugs (the city can be noisy with open windows)

Hangers
*If you prefer, bedding and linen rentals and a laundry service can be arranged through E&R Campus Laundry. You can sign up for the service ahead of time (select "RISD Summer School"), and E&R Campus Laundry will also be present on Check-In Day. Review laundry/linen rental services offered.
Final Exhibitions
Final Critiques Week
You'll be in class all day, every day of Final Critiques Week–presenting and documenting your work, giving and receiving critiques and having individual meetings with instructors. Please plan to be on campus until 4:30 pm (end of class) on Friday, July 28. You are not allowed to leave any of your final classes early, and you must be available to collect your artwork from the exhibitions between 2:30 and 5:30 pm.
Final Exhibitions
Schedule subject to change
Pre-College culminates with final student exhibitions. The Foundations Exhibition presents work from Drawing Foundations and Design Foundations, the Majors Exhibition showcases pieces produced in the studios of all majors, the Film/Video and Animation Screening is where all Film/Video and Animation student work is viewed, and the Fashion Majors Show highlights wearable art.
Majors Exhibition Opening Reception
Thursday, July 27, 5–8 pm
Woods-Gerry Gallery, Woods-Gerry House
Exhibition hours: July 27 (9 am–9 pm) and July 28 (9 am–2:30 pm)
Foundations Exhibition Opening Reception
Thursday, July 27, 5–8 pm
Washington Place Lobby, 20 Washington Place
Exhibition hours: July 27 (9 am–9 pm) and July 28 (9 am–2:30 pm)
Film/Video and Animation Screening
Thursday, July 27, 5:30 pm
Metcalf Auditorium, Chace Center/RISD Museum
Fashion Show
Thursday, July 27
RISD Auditorium
Rehearsal: 6 pm
Main Event: 7:30 pm
Artwork Pick-Up
Friday, July 28, 2:30–5:30 pm. You're responsible for picking up your final work at the close of the exhibitions. Artwork may not be removed from the gallery prior to the start of the pick-up time of 2:30 pm on Friday; any artwork that is not picked up by 5:30 pm will be discarded. Parents or friends may pick up artwork for you by presenting a note from you authorizing the pick-up as well as a photo ID.
Check-Out
Residence hall room check-out is Saturday, July 29 by 12 noon.
To ensure a safe and smooth departure, students are required to stay through the last day of class, Friday, July 28, when they will pick up their artwork from Final Exhibitions from 2:30–5:30 pm, and then depart RISD residence halls by 12 noon on Saturday, July 29 2023. For travel purposes, if students would like to check out after class on Friday, July 28 they must notify the Residence Life office.
Shipping and Packing
UPS will be on campus during Check-Out to help pack and ship belongings home; they are also available to pick up, pack and ship artwork from the galleries. (Please note that UPS is a third party vendor and all transactions with them are independent of RISD.)
The UPS Store, 11 South Angell St, Providence, RI 02906
Phone: 401 751-6245
Email: store3114@theupsstore.com
Web: theupsstore.com/3114
Info for Parents and Guardians
What to Expect
RISD Pre-College is an opportunity for students to experience life as a college student. The program is oriented toward independent young people; since they are not supervised at all times, they have the opportunity to grow even more independent and responsible.
Students are expected to take initiative both inside and outside of the classroom, including prioritizing their schedule to balance extensive homework assignments with time for RISD events and activities. Students have the ability to travel freely on and off campus after class and before curfew; however, being on time for curfew and class is held to very strict standards.
Students are also responsible for seeking out information and guidance from faculty, Residence Life and other appropriate staff to resolve any issues.
Communication
During the Application Process
When applying for the program, students are asked to use their primary email address to create an account within the Application Dashboard. Once accepted, all required forms and documents must be submitted online with parent or guardian signatures. Please work with your child to complete the application process together.

The Parent/Guardian email designated as the primary point of contact in the program application will be contacted by Residence Life to complete a Parent/Guardian Housing Application. This short application is where the parent/guardian indicates important dates and information to Residence Life. This information helps us keep your student safe and accounted for during curfew checks. The application is mandatory for all parents/guardians of students who are residing on campus during Pre-College.
During the Program
Pre-College staff and faculty will communicate directly with students via email—not with parents, guardians or other third parties. During the program, unless a student has incurred a serious infraction, parents and guardians are not necessarily informed when students receive an Academic Warning, attend a Disciplinary Hearing or violate minor policies. In this way they can learn to make alternative choices and self-correct in order to succeed.
Safety
We take the safety of your children seriously. That's why we offer many services, tools, policies and procedures to help maintain a safe environment on campus. The Public Safety office and the Security Desk are staffed 24/7 to ensure the general welfare and security of all Pre-College students. We implement a 10 pm curfew every night, and check that the students are all in their rooms by that time.
Emergency Notification
LiveSafe, managed by RISD's Department of Public Safety, is a free downloadable app that mobile users can use to initiate contact with emergency responders around the city and campus. It is also an emergency notification system that uses broadcast phone, email and text messaging for quick distribution of time-sensitive information to students, faculty, staff and family members. The primary email address listed on the Pre-College application is automatically enrolled in the system. During critical events involving your personal safety, you will receive advisories and instructions to the phone number you provide. Features include:
one-touch emergency/crime reporting to Public Safety or 911
anonymous messaging for reporting suspicious activity, crimes in progress and other safety concerns
monitoring services for family/friends to track your location
customized directory of RISD and local emergency information
health and wellness resources
directory of on-campus automated external defibrillator (AED) locations
LiveSafe is available for download from the Apple App Store, Google Play and the MyRISD app, or via direct download. You must sign up for the LiveSafe system by June 24.
Hear from Other Parents
Here are just a few things other parents–just like you–have had to say about the program.
"RISD's Pre-College Program was a life changing experience for our sixteen year old, who grew substantially in her art and independence… She rose to the occasion of doing the hard work and achieving great results. She is now a much more confident and assured young woman."
– Allain, Massachusetts
"I would make sure your child is committed to the arts before attending. This is a somewhat intense program. My daughter was in the studio working on projects at all hours (and she loved every minute of it). This program is a real slice of college life and not to be compared to those summer camp college programs. The completed work my daughter came home with was beyond impressive and it gave her confidence in her ability and direction for her future plans. She also made a ton of friends from all over the country."
– Alyssa, New Jersey
"Our son was humbled by the experience and learned to grow by it. I recommend pre-colleges for any high school students that plan to attend a college or university."
– John, New York
"The fact that RISD has a Pre-College program that is longer than two weeks is so crucial. What are you going to get out of two weeks? This is total immersion. It's almost like a mini semester. We thought that was fantastic. If our daughter had said after after the program 'this is not for me,' that would have been okay. We would have seen it as equally beneficial for her to learn that art school wasn't for her before starting to apply to undergraduate colleges. But it was quite the opposite. It's worth it. It's a life-building and lifelong experience that's going to stick with a young person forever."
– Robert, New Jersey
COVID-19
RISD has developed a comprehensive set of protocols and associated policies to protect the health and safety of Pre-College students and the broader community from the spread of the novel coronavirus on campus. Please visit our COVID-19 Safety Information page for the current requirements and protocols pertinent to COVID-19 and the Pre-College 2023 program.
Student Conduct 
RISD Pre-College encourages artistic and intellectual freedom, but also offers a structured campus environment. Most students live in campus residence halls, which are accessible only by authorized ID cards. Special rules apply to Pre-College students, which include but are not limited to evening curfew and the need for parental and/or guardian permission to leave campus overnight. Further details of conduct expectations, attendance and curfew policies are included in the Pre-College Student Handbook.
Violations of college policies and regulations may result in such sanctions as a warning, probation or dismissal. All policy materials must be read and acknowledged prior to the start of the program.
Academic Attendance
Pre-College follows a full-time collegiate curriculum and standards. As a RISD Pre-College student you will need to:
Arrive on campus on time at the start of the program and attend all Student Orientations on Saturday, June 24, 2023 and Sunday, June 25.

Arrive to each class on time and prepared. Review and fully understand the guidelines for classroom behavior and academic performance as outlined by each instructor's syllabus.

Attend and actively engage in each class and present all coursework (including homework) on time.

Not behave in any manner that is disruptive to the progress of instruction and learning environment.

Adhere to the English proficiency requirements

Attend all five weeks of the program through Final Critiques week and not leave the program prior to the end of class on Friday, July 28, 2023.

Participate in the Final Exhibitions as directed including the submittal of artwork by the deadline and not removing your work from an exhibition prior to 2:30 pm on Friday, July 28, 2023.
Absences
Students who incur three full-day absences may be dismissed from the program. Absences for medical reasons are included in this policy. Late arrival to class counts towards a half day's absence, except for Critical Studies in Art classes in which it will count for a full day's absence.
Absence during class for family events such as weddings, birthdays, vacations or other social engagements are not permitted. However residential students may attend these or other events (with parental permission) on evenings up until curfew, Saturday, Sunday up until curfew or for the entire weekend (Friday evening up until Sunday curfew) on an approved Weekend Away. Weekend Away forms are provided along with housing forms in April.
Academic Review
Each faculty member develops the content and criteria for reviewing and grading your performance. Some factors include class participation, quality of work, receptivity to new ideas and experimentation, as well as attendance and behavior.
Occasionally, in addition to a faculty review and grade assessment, there may be an academic and/or program review by a program administrator during or after the program ends. This may result in a student who has or has not performed well in class to receive a significant reduction in their grade, fail the course and/or be dismissed from the program. Most often this is the result of a student not submitting a final project, being absent from a final class or breaking policy during the final days/weeks of the program.
Withdrawal and Refunds
Note: In the event that our Pre-College program is canceled due to COVID-19, program payments, including the deposit, will be 100% refunded. The $60 application fee and other program-related costs not billed by RISD such as travel, supplies, etc. are non-refundable.
To officially withdraw from Pre-College prior to the start of the program, submit written notification to RISD Pre-College.
To officially withdraw from Pre-College after the start of the program, you must meet with the Associate Director of Pre-College for an exit interview, and together with your parents/guardians, must sign a Voluntary Withdrawal Form. Please see the "Leaving Campus Early" section of the Student Handbook for more details. Note: Withdrawals for a medical reason must be accompanied by a signed doctor's note. Failure to properly withdraw from the program results in a permanent grade of 'F' on the student's record.
Refunds for voluntary withdrawal after the student has been accepted into the program are granted according to the following schedule. The percentage of the tuition and housing/dining fees refunded, less deposits, depends on the date the written request is received in the CE office.
On or before May 2: 100% (minus deposit)
Between May 2–May 31: 50% (minus deposit)
On or after June 1: 0%
Application fees are non-refundable. No refund or reduction in the total charge will be made for a student who arrives to the program late, leaves the program early, or is dismissed from the program due to a violation of school policies or regulations. The Pre-College Student Handbook, included in the program forms and documents, more fully describes these regulations. 
Please note: Refunds take up to six weeks to process. Refunds will be issued in the form of original payment. If the original form of payment was via check, a refund check will be made payable to the primary parent as listed in the student application. For payments made via FlyWire, an applicable refund will be returned in the manner in which it was paid. 
Program Dismissal
Please reference the "Leaving Program Early" section of the Student Handbook for procedure details of students being dismissed. Please note that no tuition or fees are refunded to students who are asked to leave the program for violation of RISD policies. Students who withdraw from the program for any reason are also subject to the Withdrawal and Refund Policy and schedule.
Non-Discrimination
Rhode Island School of Design does not discriminate on the basis of race, color, religion, age, sex, sexual orientation, gender identity or expression, disability, national origin, veteran status, or any other characteristic protected by law in admission to, participation in, or administration of its educational programs and activities; in employment; or in its other programs and activities. Learn more about our non-discrimination policy.
FERPA
The Family Educational Rights and Privacy Act (FERPA) affords you certain rights with respect to your education records.
These rights include:
The right to inspect and review your education records (with certain limited exceptions) within 45 days of the day RISD receives your request for access. You should submit any such request to Continuing Education in writing, identifying the records you wish to inspect. Continuing Education will make arrangements for access and notify you of the time and place where the records may be inspected. Records that are customarily open for student inspection will be accessible without written request.
The right to request the amendment of your education records if you believe them to be inaccurate. You should submit any such request to Continuing Education in writing, clearly identifying the records that you want to have amended and specifying the reasons you believe them to be inaccurate. Continuing Education will notify you of its decision and, if the decision is negative, of your right to a hearing regarding your request for amendment. Additional information regarding the hearing procedures will be provided to you at that time.
The right to consent to disclosures of personally identifiable information contained in your education records, except to the extent that FERPA authorizes disclosure without consent.
One such exception permits disclosure to "school officials" with "legitimate educational interests." A "school official" is any person employed by RISD in any administrative, supervisory, academic or research, or support staff position (including Public Safety and Health Services staff); any person or company with whom RISD has contracted to provide a service to or on behalf of RISD (such as an attorney, auditor, or collection agent); any person serving on RISD's Board of Trustees; or any student serving on an official committee, such as a disciplinary or grievance committee, or assisting another school official in performing his or her tasks. A school official has a "legitimate educational interest" if the official needs to review an education record in order to fulfill the official's professional responsibility.
Another such exception permits RISD to disclose your "directory information", consisting of your name; local, home, and email addresses; local and home telephone number; enrollment status/rank; dates of attendance; certificates received; student ID number, user ID, or other unique personal identifier used by the student for purposes of accessing or communicating in electronic systems; most recent educational agency or institution attended; and photograph, to anyone within the RISD community and to the general public.
Students who wish to have their directory information withheld must notify Continuing Education in writing. Please note that such a notification will prevent Continuing Education from providing your directory information to your friends, prospective employers, arts organizations, and others with whom you may wish us to share such information, so make your decision carefully. You may give such notification at any time, but it will be effective only prospectively.
Upon request, RISD also discloses education records without consent to officials of another school in which a student seeks or intends to enroll or where the student is already enrolled so long as the disclosure is for purposes related to the student's enrollment or transfer. Information on other such exceptions is available through Continuing Education.
The right to file a complaint with the U.S. Department of Education concerning alleged failures by RISD to comply with the requirements of FERPA. The name and address of the office that administers FERPA is: Family Policy Compliance Office, U.S. Department of Education, 400 Maryland Avenue, SW, Washington, DC 20202-4605.