Academics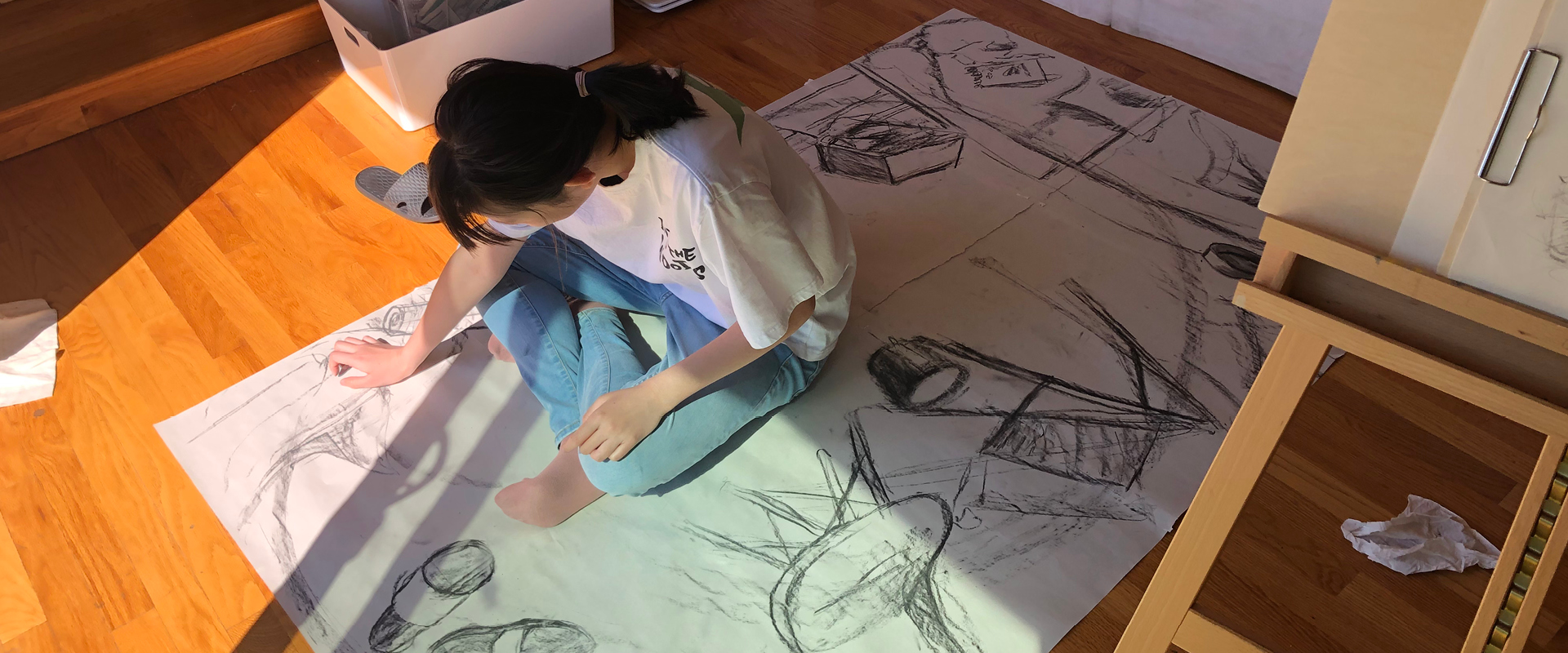 Curriculum
Similar to the RISD's first-year experience, students begin the program by focusing on Essential Fundamentals courses, which emphasize the practical skills needed to develop their ideas. Working through a series of prompts, students are challenged through research, material and method exploration to develop work that reflects issues around creativity during times of uncertainty.
During each course students develop portfolio work that reflects their unique vision and direction. Upon completion of one or more Essential Fundamentals courses students can choose to move into a Featured Topic paired with a Visual and Critical Language course allowing for focus on a particular topic and medium.
From addressing the practical challenges of working with limited space and materials outside of a traditional studio, to learning how to find inspiration in the mundane, to developing and sustaining an active art-making practice, students will work independently and through peer connections to understand how constraints might inform exceptional outcomes.
Essential Fundamentals
These courses focus on how best to express your ideas and concepts through impactful visual communication. Additionally, you'll strengthen connections to your own interests and passions by exploring the work of contemporary artists and designers. There will be demonstrations, lectures, presentations, critique, and feedback, all working to strengthen your core skills.
Time Commitment: During the Fall or Spring terms, students should expect to spend a minimum of five hours per week engaging in coursework. Students should plan their schedules accordingly to keep up with the class. The Summer term is a shorter, more immersive experience. Students should expect to engage in Essential Fundamentals courses for a minimum of 10 hours per week in each course and plan their schedules accordingly.
Experiential Drawing
In this class, principles and elements essential to drawing are explored through a variety of media and methods. Students may use materials such as charcoal, graphite, markers, collage and water-based paint—as well as found materials and invented tools—in order to explore different processes in drawing. Students learn about a range of compositional strategies. Tonal studies, volume, weight and contour, line and form are pursued through observation and interpretation. Students will draw from observation, research, memory and imagination. We will be expanding the idea of what drawing is and why it is important: a thinking process, a way to explore, a way to solve visual problems, a way to broaden creative passages. Emphasis is placed on developing an active sketchbook practice that serves as an impetus for larger projects and allows others to understand your process.
Offered in Summer 2023
Offered in Fall 2022 and Spring 2023 (as a 2-part course)
Summer
Fall/Spring Session I
Fall/Spring Session II
Exploration in Design
Effective visual communication in all art forms begins with the fundamentals of good design that defines space, unifies the whole and ignites emotional response. In this class, students explore materials to strengthen idea building through investigations in line, shape, color, value, pattern, texture, space and form. These elements will serve as the foundation through which students express personal, as well as global, ideas and concepts. Experimentation with hierarchical scaling, transparency, transition and a variety of approaches allows students to create a personalized collection of studies and completed works. This class will require thumbnail sketches and reworking projects through multiple iterations before arriving at final work. Students employ a range of (wet and dry) media and techniques in exercises and assignments that focus on developing key design sensitivities and student interpretations. From initial sketches to final projects, students develop a core practice to help in the success of current and future work.
Offered in Summer 2023
Offered in Fall 2022 and Spring 2023(as a 2-part course)
Summer
Fall/Spring Session I
Fall/Spring Session II
Concentration
— Featured Topics course of choice
— Visual and Critical Language
Students who have completed either Experiential Drawing or Exploration in Design may want to further their immersive art and design education by choosing to explore a specific area of study. Featured Topics courses are an opportunity to focus on a singular area of study to harness your skill sets in a particular medium. Students engage in investigatory and iterative practice while also exploring different approaches and materials. These courses conclude with student final presentations. Linked to this experience is the Visual and Critical Language course, where students work through reading assignments on the lives and works of key contemporary artists and designers relevant to the Featured Topic. In addition, they will learn to speak, write and present their own work in clear and well-reasoned ways.
Time commitment: The Summer term is a shorter, more immersive experience; students should expect to engage in Concentration courses for a minimum of 20 hours per week and plan their schedule accordingly.
Featured Topics
Examples of Summer Immersion Featured Topics courses:
Visual and Critical Language
Students enrolled in a Featured Topics course also take a corresponding Visual and Critical Language course.
Visual and Critical Language
In this course students address where we are today and how artists and designers have used their expressive capacity to reflect on current culture. Through virtual museum, gallery and artist studio tours we will examine what artists and designers are doing and saying about contemporary issues and the role their work plays in society and how it can inspire your personal creative work.
Film viewing and reading assignments on the lives and works of key contemporary artists and designers relevant to the Featured Topic give understanding of how creativity and invention always flourish during times of uncertainty. Emphasis in this course is on concept development through research strategies that help avoid the common pitfalls of the cliché, plagiarism and citing inaccurate information. Additionally, students develop the ability to speak, write and present in clear, well-reasoned ways demonstrated through their Featured Topic final presentation.
Registration for Visual and Critical Language is included when you register for a Featured Topics course of your choosing.
Online Experience
Throughout the program, students will interact with their instructor and peers in two ways. Live Zoom sessions offer face-to-face time for students to engage with the instructor and their peers. Live sessions may consist of lectures, material and other demonstrations, project development and group critiques. With our learning management system, Canvas, instructors provide a sequential curriculum consisting of prerecorded lectures and demonstrations; resources, research links and materials; and assignment outlines. Students share in-progress work and concepts, present fully developed projects, and participate in peer discussions to support their own work and the work of their fellow students. Students receive direct and responsive support from instructors to promote advanced learning.
This mix of synchronous (live) and asynchronous (recorded) activities means:
Zoom sessions will be at a set date and time in Eastern Time. You will be required to attend and be an active participant.
In addition to the Zoom sessions you are expected to log into Canvas daily to post images, participate in discussion boards, watch demos and tutorials and keep pace with assignments.
You'll have access to the online course content any time of day or night.
The majority of class content, assignments, demonstrations and tutorials will be online. You will need to schedule your own study, research and creative time.
The essential elements for success are a passion to create, a willingness to try new ideas and being open to working differently. However, some students may struggle as they learn to work independently within tight deadlines, long-term projects and written assignments. These students may need additional support from family members, tutors and/or other resources not provided by the program. Each student will be assessed and graded on their engagement and performance.
Critique
An essential element of the RISD undergraduate curriculum is the studio critique (or, affectionately, "crit"). That's because all visual artists and designers, at every stage in their career, need the advice and perspective of others. In the Advanced Program Online, you'll learn to present your work to your peers and instructors, receive constructive criticism and analyze your classmates' work in turn.
The Human Figure
To develop a critical understanding of art, Advanced Program Online courses may utilize images of clothed and unclothed human figures. The work that you create from these resources is designed to develop an awareness of the kinesthetics of the human form, some knowledge of human anatomy and a connection to the living energy of the subject. You'll be expected to be respectful, non-distracting and keep all discussions on the human figure to your work.
Homework
Since most of class time is made up of lectures, demonstrations and critique, most of your work will be done outside of the classroom. Homework for all courses is substantial. You're expected to take initiative both inside and outside of the classroom, including prioritizing your schedule to balance extensive homework assignments. The intensive curriculum of Advanced Program Online is your dedicated time to develop your skills and college application portfolio. Therefore, you should carefully consider the workload of the program and avoid scheduling any competing outside activities and studies such as competitive sports training, AP coursework, SAT prep, vacations, family events, etc. during the program that will hinder your ability to keep up with your work.
Final Projects
The last week of class consists of final critiques and presentations to your class and instructors; equal in importance and intensity to final exams in other subject areas. Attendance at final classes and participation for final projects account for a major portion of your final grade. Your participation is essential to your success in the program.
Learning Outcomes
The primary goal of this program is to provide an educational experience that allows students the opportunity to focus on a passion, reflect on contemporary circumstances, and experience the pursuit of art and design topics in depth. This vital online experience will help students as they learn to be self-motivated, nimble, creative and critical thinkers. Learning outcomes include:
A strong understanding of foundational principles in drawing and design
Knowledge of contemporary thinking in art and design, especially as it pertains to responses to crisis
An understanding of art and design processes, such as iteration, materials exploration, and relationships between concepts and form
Ability to use visual language to express ideas and give critical feedback to others
Ability to work in productive relationships with a diverse community of others, including collaboration with instructors and peers
Ability to manage personal time and be self motivated in planning and executing work
A body of work including concepts, sketches and finished pieces that may be included in and/or can inform your college application portfolio
Academic Schedule
Each course in the Advanced Program Online has a unique schedule. Most courses offer multiple sections, with students selecting the schedule that works best for them at the point of registration.
Start dates: Classes begin on the program start date (listed as asynchronous dates on your registration). Students should start engaging with course content in Canvas upon the program start date, which is before the first Zoom class.
End dates: All courses end at 11:59 pm ET on the last Sunday of the final week. Students should make sure they're available to participate in the class up until the class ends. Students will continue to have ongoing access to the class, but will not be able to engage (upload, download) after the course closes.
Zoom class sessions: Live class sessions, via Zoom, are three hours in length and meet weekly during the Summer (three times per session during Fall and Spring). Summer live sessions are held on weekdays. Fall and Spring live sessions are held on weekends. Typically these classes are offered in either morning or afternoon schedules (Eastern Time). In all courses, students engage in online coursework and assignments throughout the week to meet project deadlines.
Transcripts / Grades
Students will receive their final grades via the Student Portal at cereg.risd.edu (not Canvas) approximately four weeks after the end of the semester. You can view your grades and/or print an unofficial transcript by navigating to "My Enrollment History + Transcript." Grades cannot be sent by email or provided over the phone.
After grades become available, students are welcome to request a transcript for their own use or to share with an institution by visiting our Transcript Request page. Please note there is a fee to process each request.
Portfolio Review for Summer Term
As a participant in the Advanced Program Online summer term, you're invited to have your portfolio reviewed virtually by a RISD representative. Coordinated through the RISD Admissions office, this event is a great opportunity to receive direct feedback on what's successful in your work, and what to think about developing further or improving upon in preparation for your college applications.
These live, online portfolio reviews are 15 minutes long. During the summer term, enrolled students will receive an invitation to register for a session, as well as information on how the session will work and how to prepare for it.